"The international e-commerce" product is a special transportation service developed for B2C distributions which are offered to the companies that sell cross border. Services are provided to 26 European countries within the scope of the customs union.
This service is only offered to contracted e-commerce companies. Packages with a delivery value of 7.500 Euro and shipping weight not exceeding 30 kg can be transported as part of micro export.
Within the scope of this service, pick-up from customer, export customs, outbound linehaul will be carried out by Yurtici Kargo and customs clearance, last mile deliveries will be performed by our partner Chronopost and DPDGroup.
About Geopost
Yurtici Kargo signed a joint venture agreement with GeoPost in 2003 and partnership agreement in 2007. GeoPost is a holding company owned by Le Groupe La Poste.
GeoPost is N°2 in Europe on the CEP (Courier Express Parcel) market and the 1st Road Network in Europe. DPDgroup is the parcel delivery network of GeoPost. Their local distribution brands in Europe are Chronopost, DPD, SEUR and BRT. Click to reach GeoPost's distribution network.
What is E-Export?
The export transactions which do not exceed 150 kg and 7500 Euro value and which are made for sale (commercial), without restriction and require a different export regime, are made by Electronic Commerce Customs Declaration (ETGB).
About International E-Commerce Service
The following services are offered as part of our international e-commerce product.
Special B2C service developed for Europe
Delivery to 26 European countries with DPDGroup distribution network
Predict service (Receiving SMS / e-mail from recipients and determining delivery day via web / app, change of address, delivery to pick-up point etc.)
Door delivery or Pick-up delivery options which is more than 32.000 locations(as of 2018) in Europe
Outbound customs clearance service (e-export - outbound with ETGB)
Centralized customs clearance (DDP, DDU options)
Regular flight to Paris every day
Return solution for undelivered shipments
End-to-end online shipping tracking system
Click to the link for the international e-commerce service (DDP eParcel) video.
Technological Solutions
Fast and secure data flow through web service integration
Ability to printing a barcode at the customer's place
Clearance and sorting service in Paris through a fully automated international hub
Pick-up service (parcel shop, lockers, pickup store etc.)
Predict service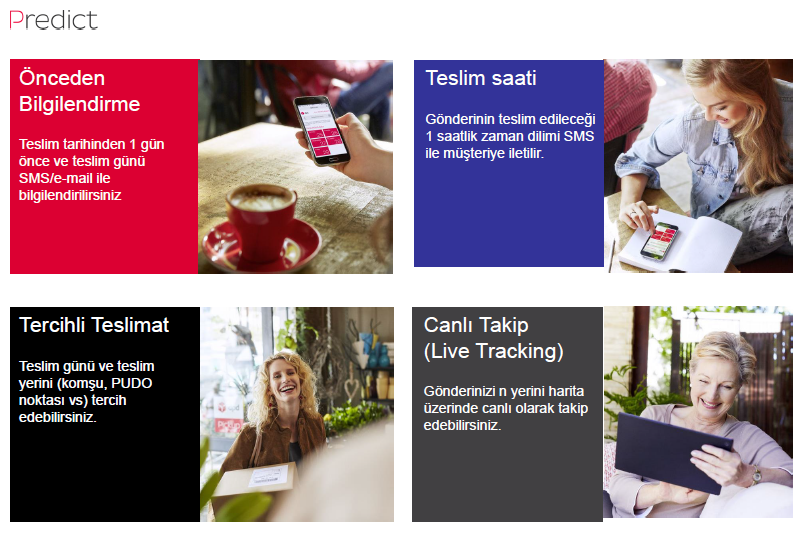 Customer services
Our international customer service offers you a direct and fast service for your international shipments. Thanks to our online customer service platform, issues such as change of address, change of delivery date are processed quickly.
Sales
For more information about our service and prices, you may kindly write to our address: yurtdisisatis@yurticikargo.com